Once a metalhead, always a metalhead. That undoubtedly might not be true for everyone, but it's a famous t-shirt slogan, and heavy metal fans are said to be the most loyal in the music world. Several of the big metal bands from the 80s and 90s are still stadium-filling acts. As a genre, metal fosters something of a community spirit, and a whole subculture has grown up around it.
Devotees of metal are, appropriately, heavy spenders on merchandise and a vast industry revolves around the music. Of course, the "heavy metal" label covers many different subgenres, including doom metal, speed metal, thrash metal, folk metal, gothic metal and power metal. An army of metal fans continues to grow and evolve, so where do new disciples go to fine-tune their tastes?
Up-and-coming bands and artists without a record label can use a music distribution app to get their music onto platforms such as Spotify, iTunes, Deezer and others, so these are good places for metalheads to discover new sounds. For established acts, a wide variety of record labels serves the metal industry. Here are just five of them.
Metal Blade Records
Founded in 1982, Metal Blade Records is a California-based independent label that specializes in a broad spectrum of heavy metal and extreme metal genres. Among its large roster of current artists are Behemoth, Twitching Tongues and Rivers of Nihil.
Relapse Records
Independent label Relapse Records has been around since 1990 and, like Metal Blade, is one of the biggest names in metal music. Among its broad genres are extreme metal, heavy metal, hardcore punk and rock. The many bands on its roster include doom metal band Valkyrie, death metal band Gatekeeper, and extreme metal band Ulcerate.
Nuclear Blast
Nuclear Blast was founded in Germany in 1987 and is another of the world's biggest metal labels. Artists on the roster include thrash metal band Slayer, deathcore band Suicide Silence, thrash metal band Death Angel and German power metal band Helloween.
Earache Records
Comically named Earache Records was founded in 1985 and is known for its contribution to the extreme metal genre. The Nottingham-based independent label with London and NYC offices has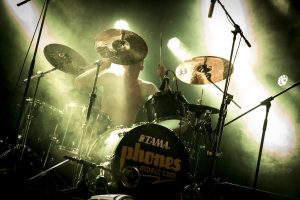 many bands on its roster. Among them are thrash metal band Vektor, Singaporean grindcore band Wormrot and death metal band Massacre.
Roadrunner Records
Based in New York, Roadrunner records was founded in the Netherlands in 1980 and is a major record label. A division of the Warner Music Group, its current roster includes big names such as Korn (nu metal), Slipknot (heavy metal) and guitarist of Guns N' Roses fame, Slash. Roadrunner Records is a multiple winner of the "Best Metal Label" award, as run by Metal Hammer magazine.